I am trying to raise money for my mom to get Stem Cell treatments for her knees for Christmas! She has been hobbling around, it seems like forever, and now she is going to be confined to a wheelchair if something is not done. She has been in the hospital a couple of times these past two months for her heart and this last weekend for a Baker's Cyst on her knee that needed to be drained. Dad just paid for a chair lift (money out of their pocket that the insurance won't pay for). She is not a candidate for Knee replacement because of her heart. My tiles are called "Relief" tiles and I have used them as fundraising items for homeless animals. Now I would like to use them for my mother to give her "Relief" and to be able to walk again. Please share this Website with everyone you know! I'm hoping and praying I will sell enough tiles to give my mom the best Christmas present ever...her mobility again! Thank you so much and Merry Christmas!
Sondra Alexander 12-06-17
Award winning, unique and beautifully sculpted 3D ceramic relief tiles with amazing detail! Sondra Alexander has accumulated a wide array of collectors all over the world! She can sculpt any animal! Simply send her a picture! These are the perfect gift, keepsake or remembrance of your special pet!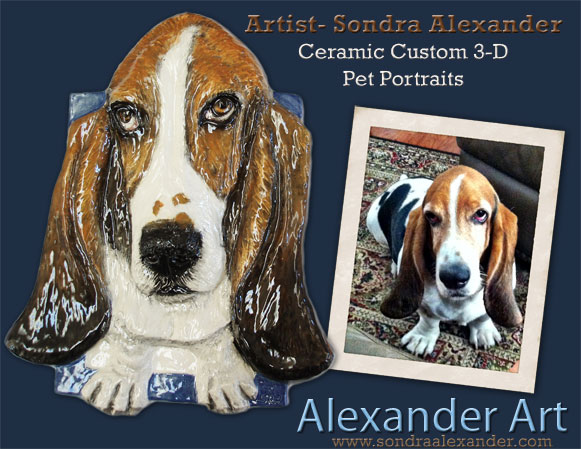 Custom Pet Portraits...over
400 Dog & Cat tiles in stock ready for purchase!
Ceramic Sculptured Tiles!
Sondra specializes in Ceramic Animal Portraits, Bronze and fine art . She services private individuals, designers and businesses.
Don't miss the fabulous Ceramic Cat, Equine, Zoo & Western Tiles!